Has spring sprung where you are? Now that the snow has finally melted and we have longer, warmer days ahead, it's fun to look at all of the spring and Easter themed crochet patterns out there!
Below I have compiled a list of 12 free spring and Easter themed crochet patterns! With all of these super cute options, I hope you will find something inspiring to get you excited about Easter and spring!
Are you ready to get SPRING-spired?! Let's get started!
Remember to like Loops and Love Crochet on Facebook and join the Loops and Love Crochet Group! You can also follow @loopsandlovecrochet on Instagram!
Disclosure: This post may contain affiliate links, which means I may receive a small commission if you click a link and purchase something that I have recommended. This is done at no extra cost to you. Thank you for supporting Loops & Love Crochet!
*The images used in this post belong to the individual designer and have been used with permission*
Let's get to these amazing free patterns!
This adorable chick basket is perfect for your Easter or spring décor, but would also make a great toy for a little one to have fun putting Easter eggs in. You could even add a handle and use it for egg hunting. If you want to mix things up, on her blog, Valerie also has a Pig Basket and a Unicorn Basket and they are definitely worth checking out!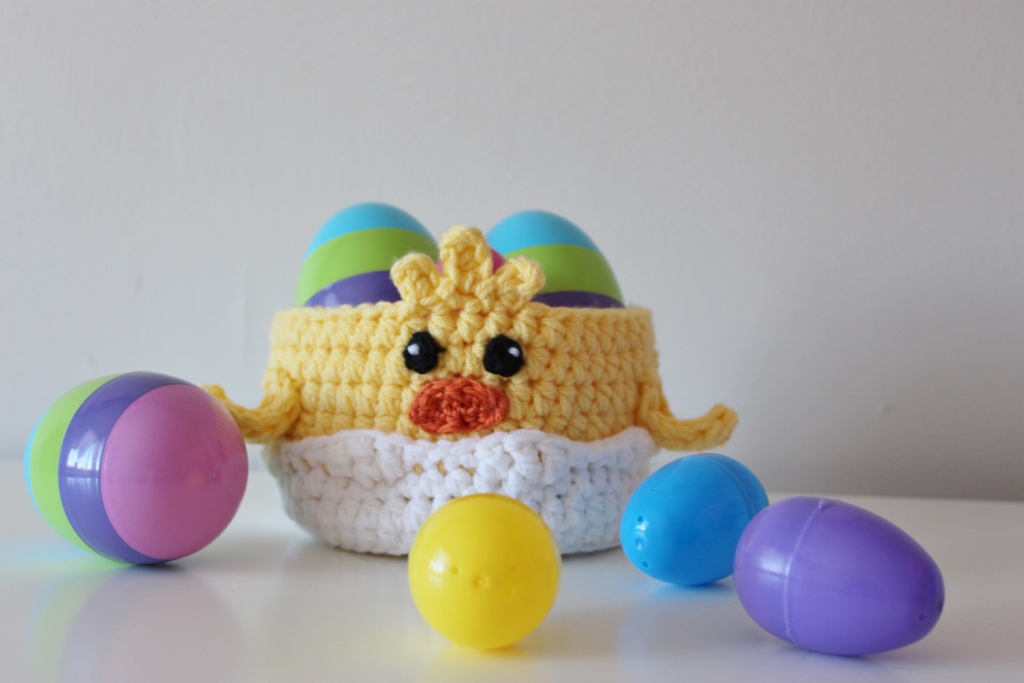 I know this adorable bunny backpack would be such a hit with little ones! My girls are fans of any sort of bag or purse and would love to wear this around. This pattern is also beginner-friendly with easy stitches, but also fun for more experienced crocheters. I love how much cuteness the floppy ears and the pom-pom tail add to this bag!
I've already seen a few bumblebees around here this week, which surprised me because the snow just melted! I'm taking it as a sign that spring has finally sprung! This Bumblebee Cuddler is just so cute and happy looking. I especially love the rosy cheeks and the cute little antennae!
This wrap is the perfect layer for spring weather! Spring weather can be unpredictable (at least where I am) and this wrap can be worn loosely to stay cool in warm weather, but you can also wrap it around you to warm up if it gets cooler out. Plus, the neutral shades help this piece complement any outfit and it is very stylish!
This classic bunny has a simple and elegant look, but is also so cute a cuddly looking at the same time! Because of the smaller size, this little bunny works up quite quickly. An extra awesome feature of this pattern is that the head and body are made up in one piece! No sewing the head on here! If you love this bunny, I highly recommend checking out the two darling little bunnies on the blog, the Some Bunny in the Hood Bunny (picture a little bunny in a hoodie, sounds adorable, right!?) and the Buzz Lightyear bunny (a bunny in a Buzz Lightyear costume…also a brilliant idea!).
I love how spring brings such inspiration for these cute little amigurumi projects, and this one by Laura of the Cozy Chipmunk does not disappoint! Chirp is just the most precious little chick from the feathery tuft on the top of his head to his tiny fluffy little tail! I can imagine many little ones would love to cuddle with little Chirp, and maybe some grown ups too!
These butterflies are a perfect way to get you excited about spring! They also look so soft and squishy, making them great for cuddling! I love the effect of the self-striping yarn on the wings for an extra fun pop of color!
I love these little bunnies! They have such cute personalities with the outfits and the girl even has the most adorable tiny bow! Stephanie of Grace and Yarn has such a talent for making amigurumi projects really come to life, and they're all so amazing! These bunnies are the mini version of the larger sized Berry Patch Bunnies that you can also find on her blog.
These little crochet chickens are so unique and fun! I love how they are a hanging decoration. Those extra long, dangling legs are enough to put a smile on anyone's face! Another great use for these chicks is to use them as bookmarks! Depending on how to choose to use these guys, you can change the size easily by changing the size of your hook.
This shrug has such gorgeous texture with the beautiful lacey stitches. It's the perfect piece for the warmer spring and summer months ahead. Whether you are dressing up or staying casual, this little shrug will complement any outfit. The pattern is worked up as a rectangle and then sewn together into a cocoon shape making it quite quick and easy to work up, so you can make yourself one in no time! Plus, it's so pretty that your friends might want one too!
Here is another adorable little chick that I think you are going to love. This little baby chick is still in his egg, but wait! As some extra play value for little ones, this little guy can come out of his egg AND the bow and ribbon can be removed. How cool is that?! He also works up quickly with the double strands of yarn! Make yours today!
This bunny basket is perfect for adding to your Easter or spring decorating and also would make Easter extra exciting for kids, especially if used for egg hunting! Thanks to the super bulky weight yarn used for the base basket pattern, this project is a quick one and can easily be done in a day, or a couple of evenings. You still have plenty of time if you'd like to make one (or more) before Easter!
I hope you have found these crochet patterns as fun and inspiring as I have! Hopefully this roundup was even helpful in picking your next project! If you're still not quite sure what you'd like to make, each of the designers featured above have many other wonderful patterns on their blogs, so be sure to check them all out! In the meantime, happy crocheting and happy spring!
**Want to be kept in the loop? Be sure to like Loops and Love Crochet on Facebook and join the Loops and Love Crochet Group! Don't forget to follow @loopsandlovecrochet on Instagram!**