Thank you so much to everyone who has been joining in on the One More Row Link Party week after week! It's so exciting to see all of the patterns shared each week as well as the support shown by visiting the links shared! I hope everyone is enjoying the fun, support, and new crochet patterns as much as we are!
Here are the Top 5 Most Clicked Patterns from the One More Row Link Party #3! Be sure to check them out by clicking the name of each pattern in the list below! The new party is now live at the bottom of this post, so remember to scroll down and add your links and see what's new!
This little chick is so tiny and cute! I love every detail, right down to the fuzzy little tail!
Here is another adorable little chick! I love how the egg, bow, and ribbon are removable for some extra fun playtime!
This oversize basket is so awesome! I love how it's very pretty, but also a practical household item that can store just about anything!
This bunny pillow cover is a great pattern for spring, but would also look so cute in a baby or kid's bedroom or anywhere else! I love the texture and fun that the fluffy tail adds. There is even a knit version of this pattern too!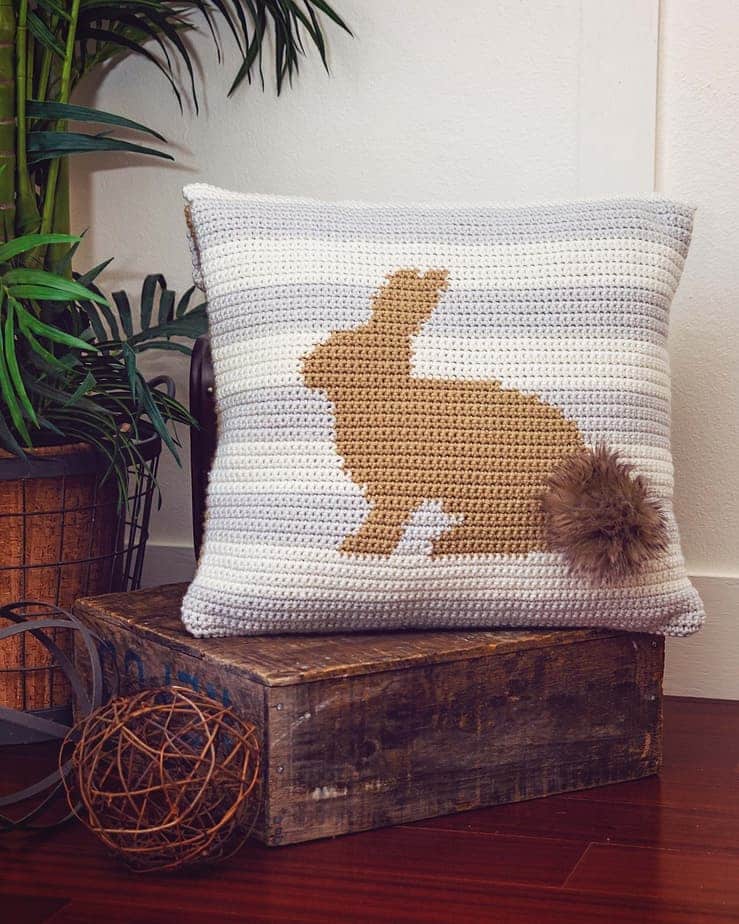 I can't get over how beautiful this mandala is! I love that this crochet pattern is a beginner friendly tutorial teaching how to make this textured mandala.
For more amazing free patterns, keep scrolling down to see the new patterns submitted in this week's link party! There are always new patterns being added, so remember to check back often!
You can also find more free crochet patterns in previous link parties here!
One More Row is a free crochet pattern link party hosted here on Loops & Love Crochet and on Grace and Yarn! Every other TUESDAY we will be sharing the top 5 free crochet patterns from the previous link party!
What is a Link Party?
How It Works
It's a fun place to share your own crochet designs and to find new projects from other designers! We hope you will join in the fun by sharing your free crochet patterns and voting on your favorites. You may even find your next crochet project!
If you're a designer, share your designs by submitting links to your FREE crochet patterns (limit of 3 per party) below. Support other designers and bloggers by visiting at least one other link – your clicks are how the top 5 patterns are determined for each party. This is a great way to get your patterns "out there" and support others.
Not a designer? That's ok, this party is for you too! Have fun clicking on your favorite links below, this is how you can vote for the top patterns that will be featured in the next party. Plus, it's a great way to see new patterns from all over the web.
Every other Tuesday we will feature the top 5 most clicked patterns in the next link party, as well as on our social media pages. Plus, a new link party will be started!
New links will be added daily, so be sure to check back often to see the awesome patterns being shared!
Meet Your Hosts!
This party is hosted by Stephanie of Grace and Yarn and myself (Amanda) of Loops and Love Crochet!
We'd LOVE it if you would follow us on one or more of our social media accounts!
Loops and Love Crochet | Facebook | Instagram | Pinterest
Grace and Yarn | Facebook | Instagram | Pinterest
Missed our latest patterns? You can check them out below!
· Mini Berry Patch Bunnies – A Free CAL by Grace and Yarn
· Crochet Bunny Basket by Loops & Love Crochet
Rules for the Party
Yes, every party needs rules, but we'll keep them short and sweet!
1. All patterns submitted by you MUST be your own work. Only add direct URLs to your pattern. No links to your homepage, Etsy store, Facebook page etc. If you're pattern is featured in the top 5, please do not submit the same pattern to future parties.
2. By leaving your link below you are giving permission to the hosts to use your photo (and reference to your link) on our blog and in our social media platforms.
3. Please visit at least one other link. Every time you click on another link shared in this party, your click counts as a vote for that pattern. So support other designers and bloggers and visit your favorite links! You may even find your next crochet project.
4. By sharing your link below, you are providing Link Party Animal with voluntary personal information. To see how your information is used you can view their Privacy Policy here.
Are you ready to add your link and join the party?
Click "Add New Link" below, insert the URL of your pattern, add a caption, and then submit! It's just that easy! Plus, have fun visiting your favorite patterns!
Note: The links below are organized randomly and not according to date submitted or number of votes!