Happy New Year!
As we ring in the new year and make goals for 2019, I've been thinking a lot about the crochet projects and designs I want to tackle this year.
I love crocheting all types of things, and there are so many new projects I want to try this year that I haven't before. For example, I'd really like to design an item of clothing, like a sweater, or try a color pooling project.
If you are like me and want to try some new things this year, this crochet pattern round up is for you!
Below I have compiled a list of 10 different free crochet projects to try this year. With all of these amazing options, hopefully you will find something new that inspires you! Try one, try two, or try them all! I mean, there's a whole year of crochet ahead of you!
Remember to like Loops and Love Crochet on Facebook and join the Loops and Love Crochet Group! You can also follow @loopsandlovecrochet on Instagram!
Disclosure: This post may contain affiliate links, which means I may receive a small commission if you click a link and purchase something that I have recommended. This is done at no extra cost to you. Thank you for supporting Loops & Love Crochet!
*The images used in this post belong to the individual designer and have been used with permission*
Let's get to these awesome patterns!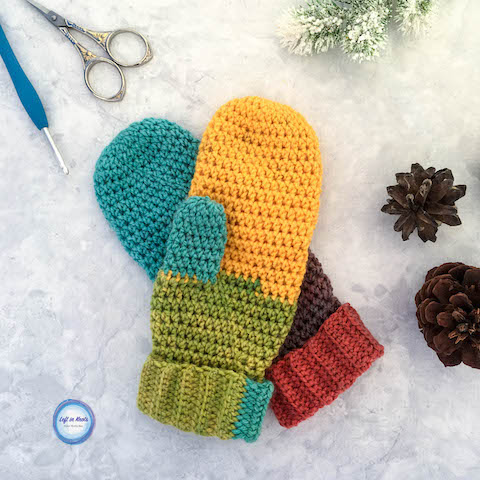 These mittens are made with Mandala yarn and are so fun and colorful! They don't take much yarn to make, so they would be a great stash busting pattern. The top down design makes them very easy to work up, just like making a hat, and then the cuff is done at the end.
Grace and Yarn has such beautiful amigurumi crochet patterns, and this adorable hippo does not disappoint! I love the little details like the nostrils and the cute ears. This pattern also includes awesome photos to help you along the way, if needed.
If you have never made a Kawaii cuddler, this penguin cuddler is the perfect place to start! From the rosy cheeks to the cute little hat, this penguin is just adorable. Who knows? Maybe you'll discover you love of Kawaii Cuddlers and try out some of the other amazing ones by 3amgracedesigns!
Doesn't this pillow cover just make you feel happy? The front has a bright pop of color in the letters and the back is done in C2C style with diagonal rainbow stripes. It just makes me want to give it a squeeze! If you haven't tried crocheting a pillow cover before, take a look at this amazing pattern!
This cardigan looks so stylish, but also so comfortable! This is a great pattern to try if you want to make something that you can wear out and about and feel good in. I love how great it looks with a pair of jeans, but also has an option to dress it up!
These sea turtles will make you think of the sun, sand, and ocean! There are so many fun color combinations possible with this pattern that you might have to make a few of these turtles! It's a good thing they work up quickly and easily. There are also lots of photos in this pattern to help guide the way!
If you have never tried color pooling and are up for a new challenge, check out this scarf pattern! I love the effect of the color pooling here and the colors in the yarn are so beautiful. Not only is this scarf super pretty, it also looks very cozy! It's the perfect combination!
These leg warmers are just too cute! I love the colors and how they are both a little different but still the perfect match! If you are looking for something cute and quick with lots of cozy slouchy awesomeness, check out these leg warmers!
This little clutch is so bright and happy! The effect of the tan yarn paired with the bright colors is so fun and eye-catching, and the design is super cute too. Unlined or lined, this clutch will be useful for holding a few things when you go out and will likely receive many compliments from friends (likely with requests for one of their own)!
If you want to make something handy to use around the house, these baskets are a great crochet project! They look great and can be super practical for holding anything from children's toys to some of your yarn stash! You can also make them in any color to complement your home décor colors.
I hope you have found these crochet patterns inspiring and helpful in picking your next project! Each of the designers featured above have many other wonderful patterns on their blogs, so be sure to check them all out! In the meantime, happy crocheting and happy new year!
**Want to be kept in the loop? Be sure to like Loops and Love Crochet on Facebook and join the Loops and Love Crochet Group! Don't forget to follow @loopsandlovecrochet on Instagram!**